Adoption Fees
These fees do not reflect the value of our dogs but rather some of the costs of care while awaiting adoption. These fees also help offset the costs to bring these dogs to safety in a new forever home.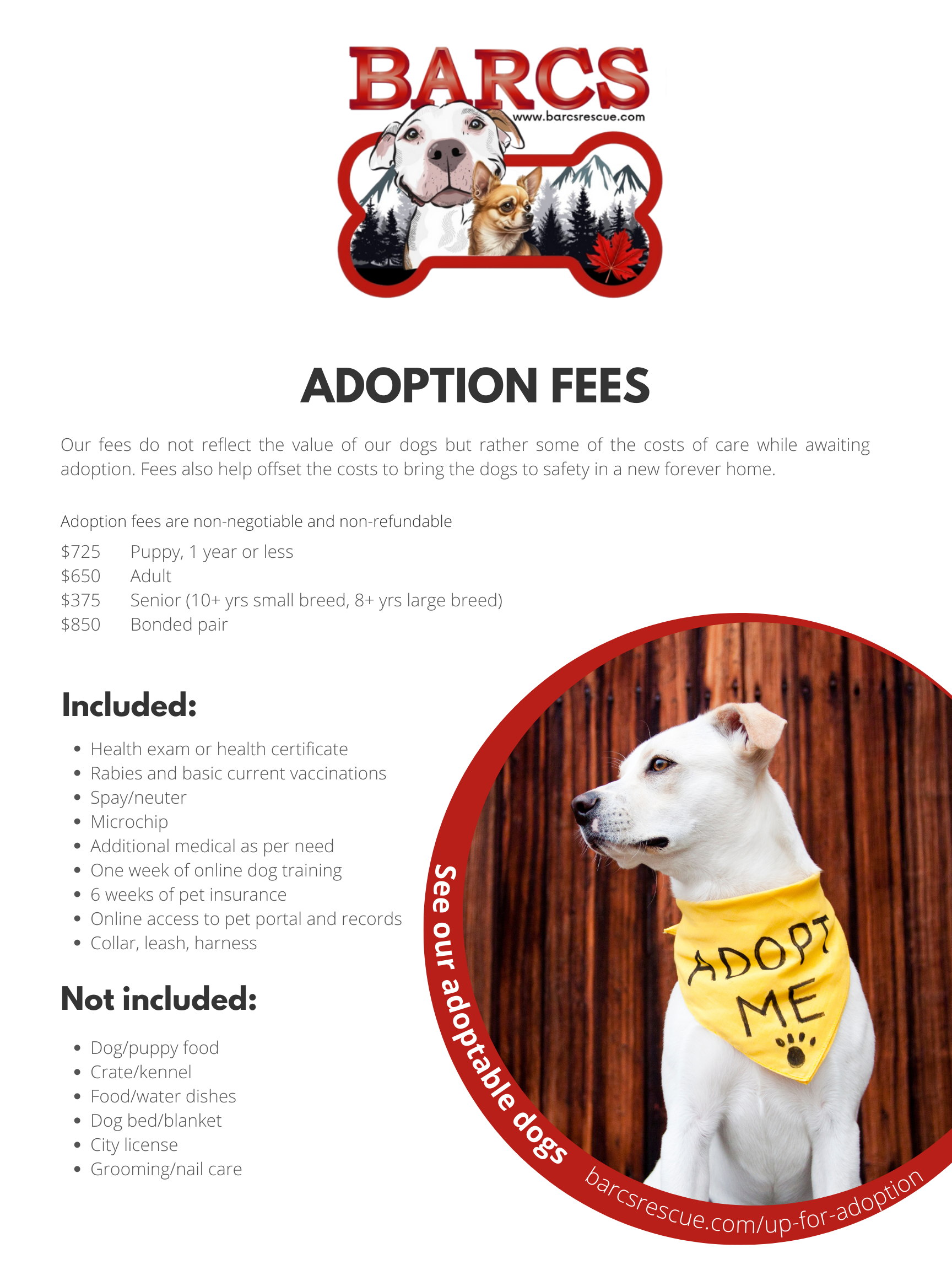 All adoption fees include, but are not limited to:
Health Exam or Health Certificate
Basic Current Vaccinations & Rabies
Spay/Neuter, Microchip
Additional Medical Required as Per Pet
One week of Online Dog Training
Online Access to Pet Portal & Records
Collar
Leash
Harness
Not included with adoptions
Dog/Puppy Food
Crate/Kennel
Food/Water Dishes
Dog Bed/Blanket
City License
Grooming/Nail Care
Adoption Fees (non-negotiable and non-refundable)
| | |
| --- | --- |
| $725.00 | Puppy (8-weeks to 12-months) |
| $650.00 | Adult (1-year and older) |
| $375.00 | Senior (small dogs 10 years and older, large dogs 8 years and older) |
| $850.00 | Bonded pair |
For questions, please contact us at
adoption@barcsrescue.com
and we will be happy to work with you.
Adoption fees are donations to help support the upkeep of animals in our care. If you were to pay a similar fee for an animal through a breeder or pet store, not only would you not be helping a pet in need, you'd be paying for intentional breeding that has led to an overpopulation of pets.
Adoption fees help cover the medical care of the animal while he or she waits for a new home, as well as food and transportation costs. These fees also help to cover costs for the other animals in the care of our rescue who may have medical bills that are much higher than any possible adoption fee. The payment also acts as a donation to help support the organization as a whole, allowing BARCS Rescue to continue its efforts to rescue and rehome more loving pets.
BARCS Rescue will continue the adoption of pets who have pending veterinary care, covered on the BARCS Rescue veterinary account. These pending veterinary tasks will be detailed in additional contracts that accompany the adoption contract. These incomplete adoptions will be followed by a veterinary authorization email that the adopter must abide by in order for the tasks to be covered on the BARCS Rescue veterinary account. The adoption will be final when all approved veterinary tasks have been completed.